Préparation : l'envers du décor
Ce n'est ni les entrepôts de Saint-Maclou, ni une foire aux livres ni le salon de l'Agriculture… pourtant, cela y ressemble. La préparation de l'exposition met à contribution les bénévoles et des litres d'huile de coude !
Preparation : Behind the scene
These are neither the Saint-Maclou warehouses, nor a book fair, nor an agriculture show.... however, it looks like it.
The preparations of the exhibition make use of volunteers and many liters of elbow grease!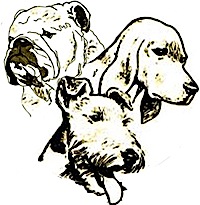 Le travail à la chaîne, c'est la meilleure technique pour préparer le matériel destiné aux exposants.
Assembly line work, the best technique to prepare the exhibitors' material.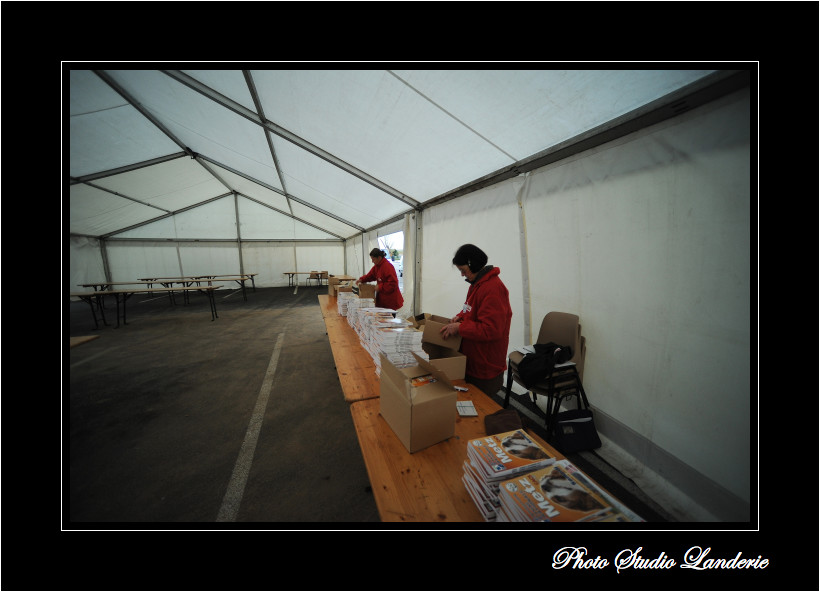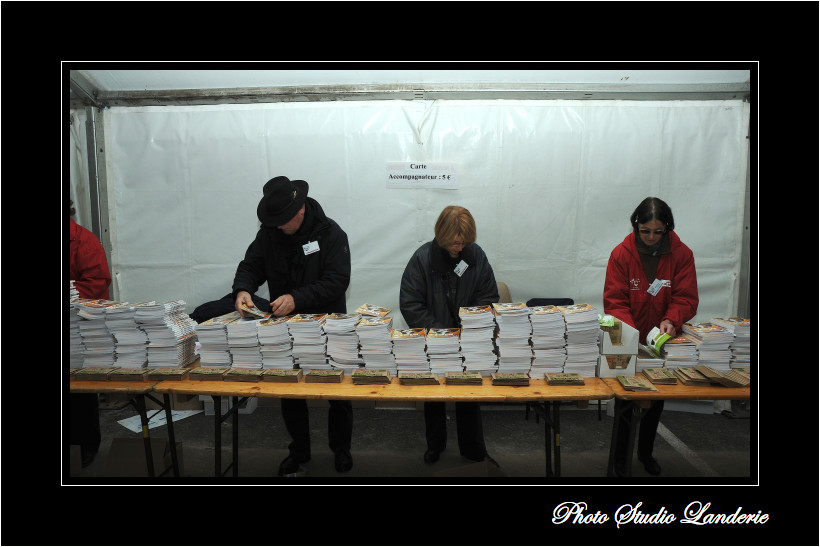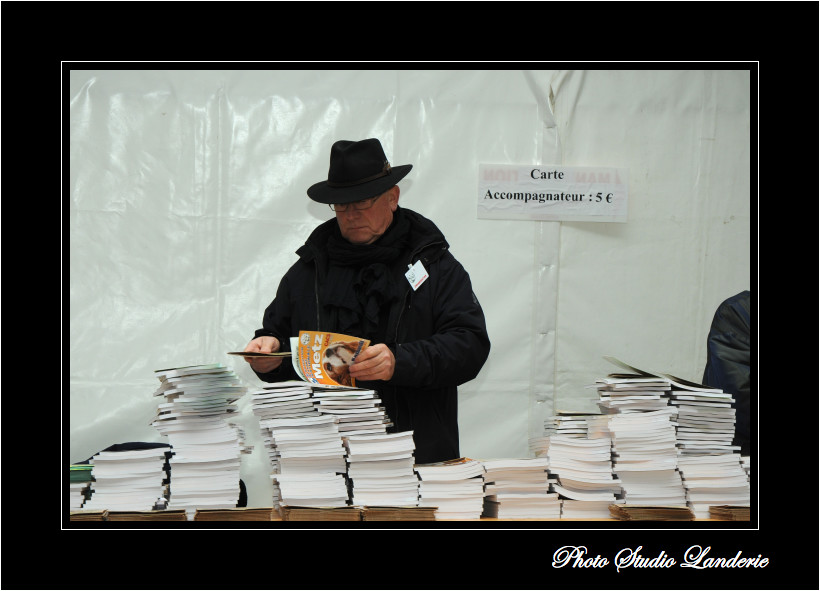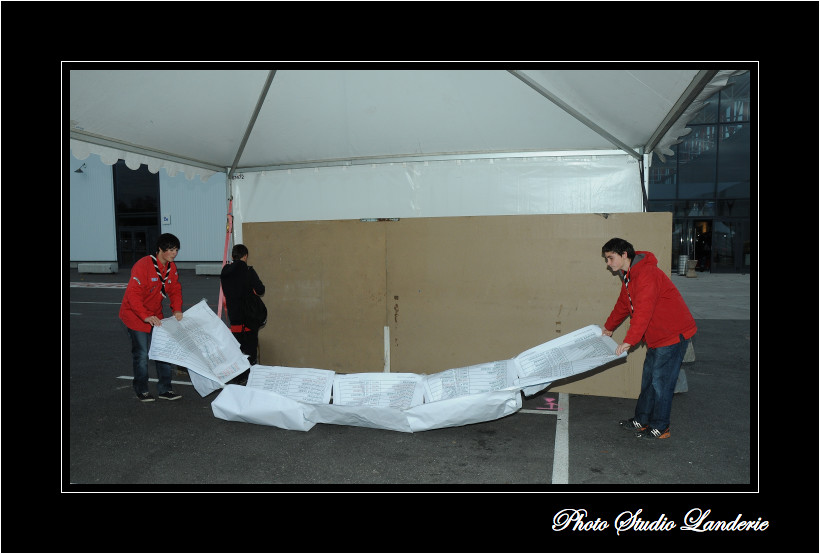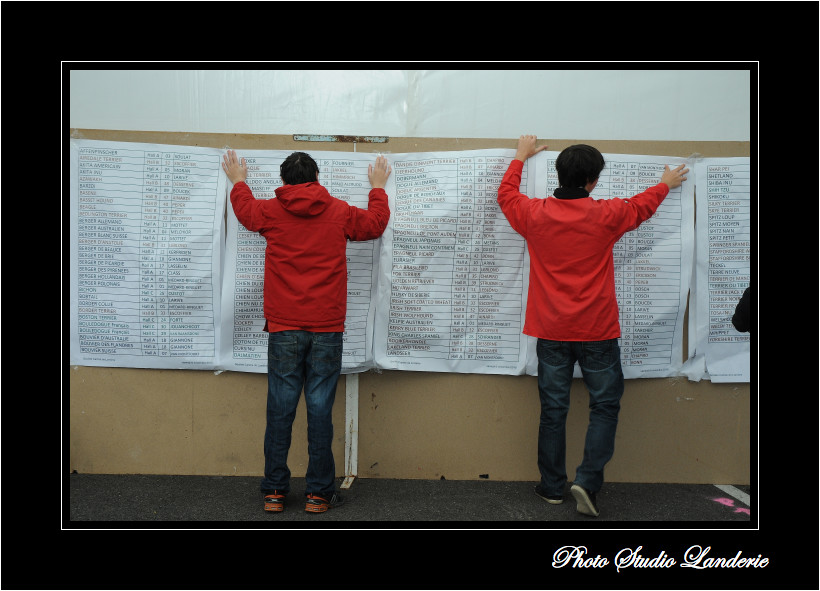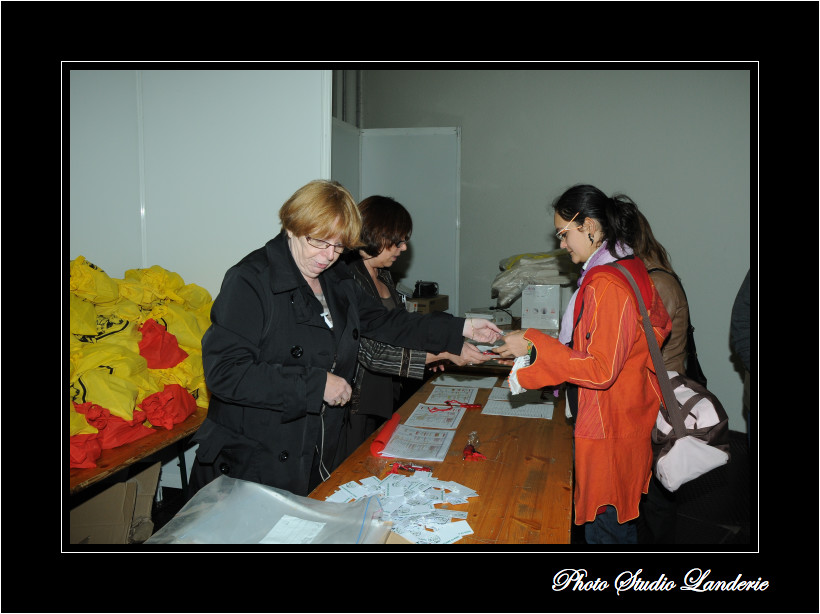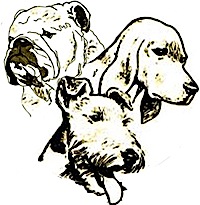 Fouler une belle moquette rouge, cela se mérite. Oui, mais il faut l'installer au prix de gros efforts. Ce sont au total 1 360 m2 qu'il faudra dérouler et poser sans un pli ! Et là, il n'y a pas trop de 6 personnes… soit douze bras.
Walking upon a beautiful red carpet, has to be deserved. Yes, but this carpet has to be laid with big efforts. All in all, 1,360 m2 will be rolled out and laid without a fold! For this, 6 persons, ...... or 12 arms, are not too many.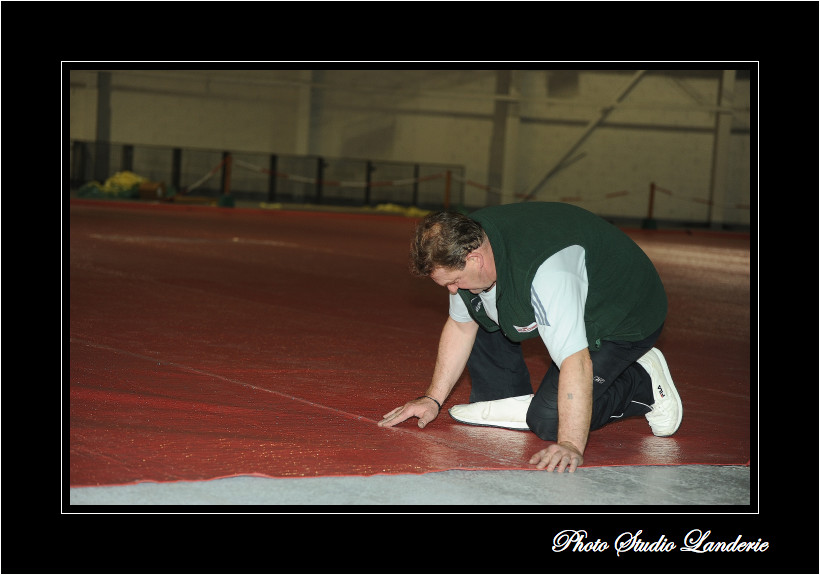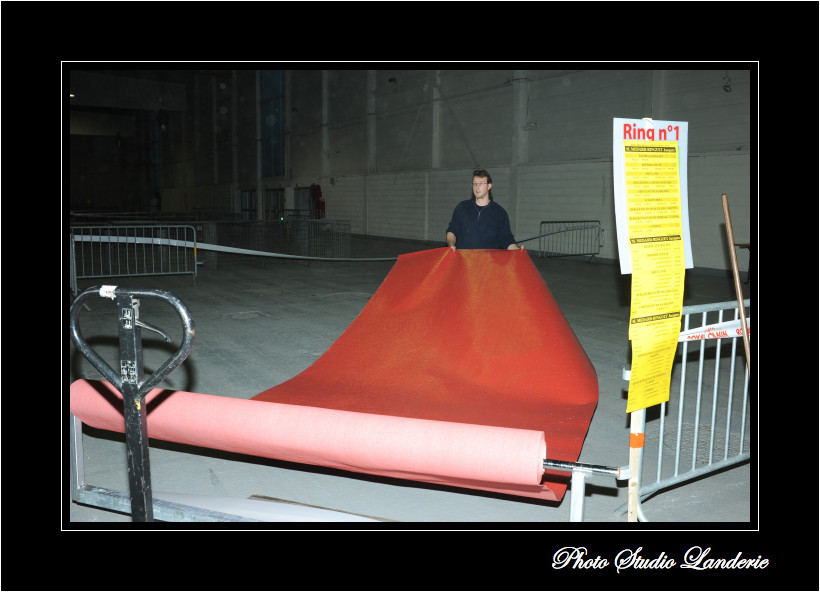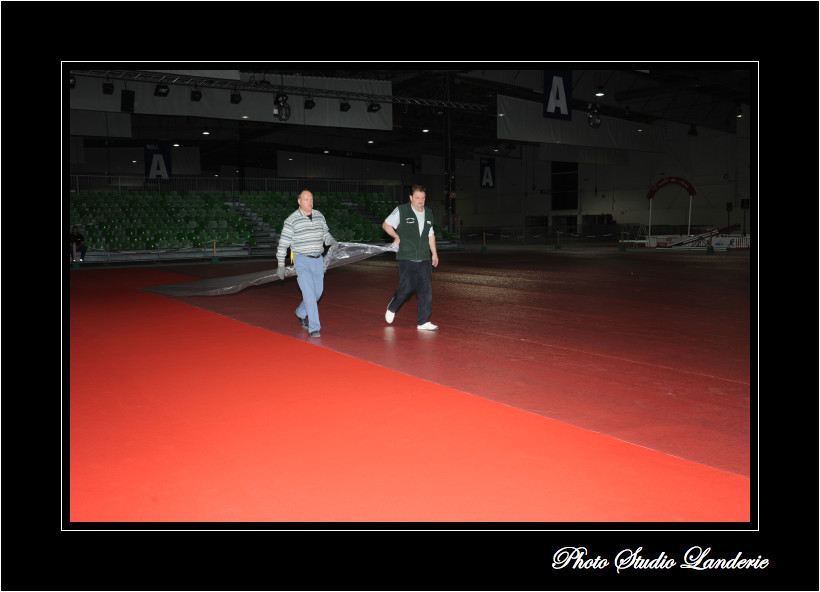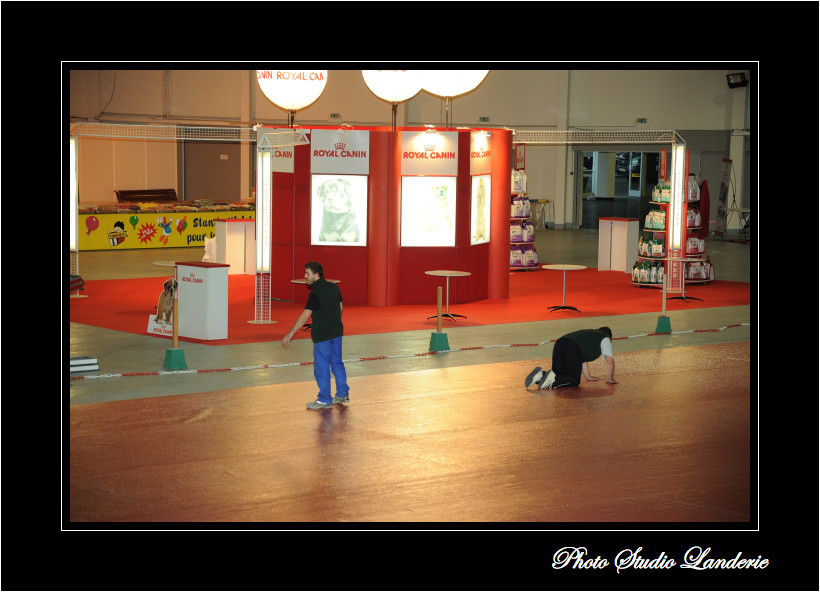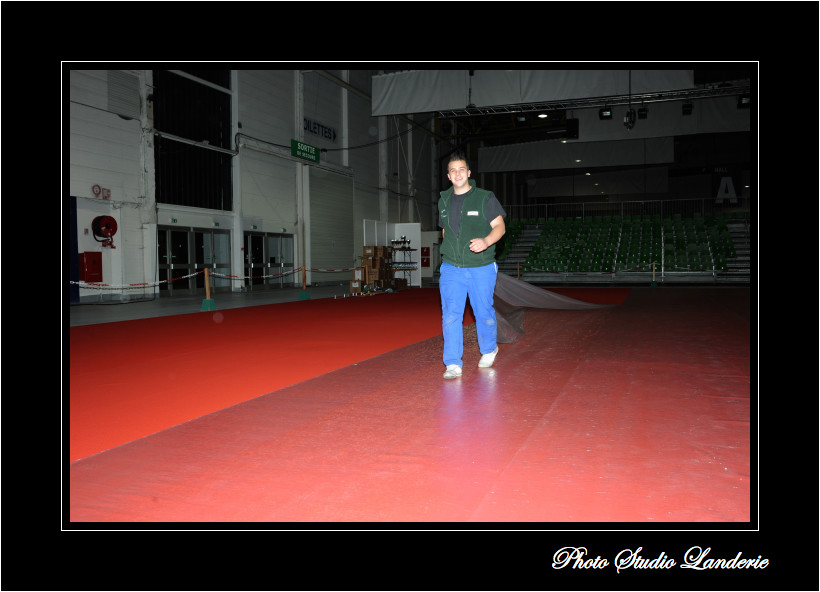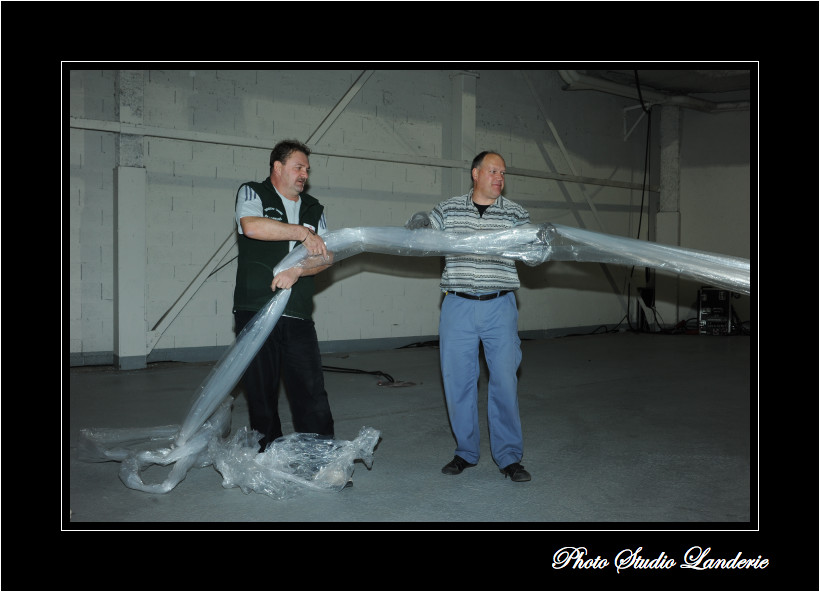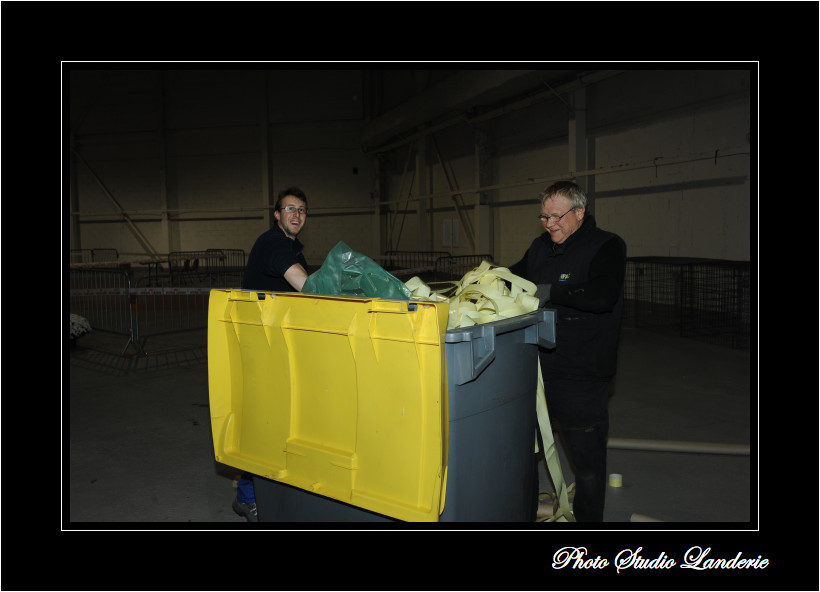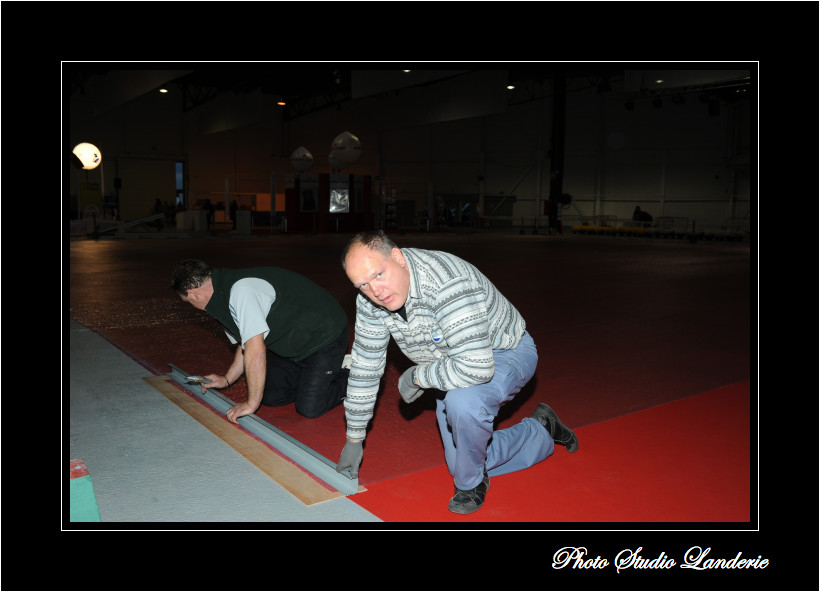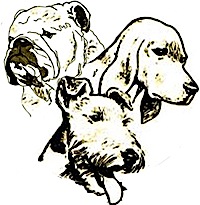 L'heure des récompenses est arrivée pour les bénévoles scouts qui doivent déballer et aligner les coupes qui seront remises aux chiens titrés. Et attention, le placement sur les étagères doit être digne d'une vitrine de grand magasin.
Time to reward: The scout volunteers have to unpack and align the cups which will be handed over to the winners. Attention please, the presentation on the shelves must be worthy of the show window of a big store.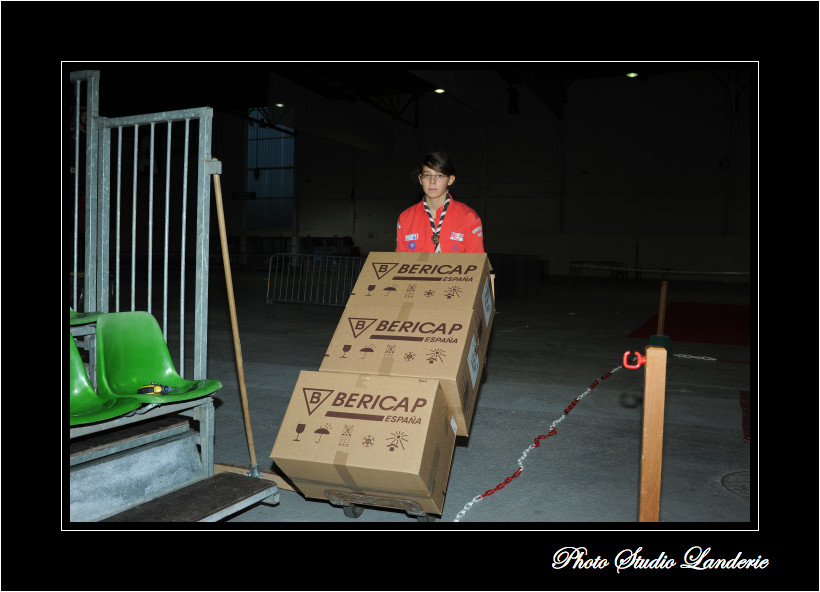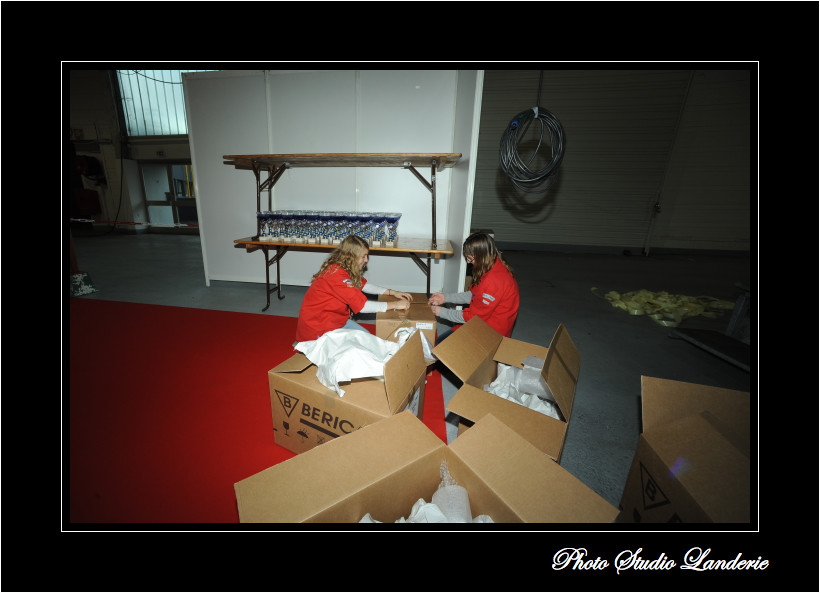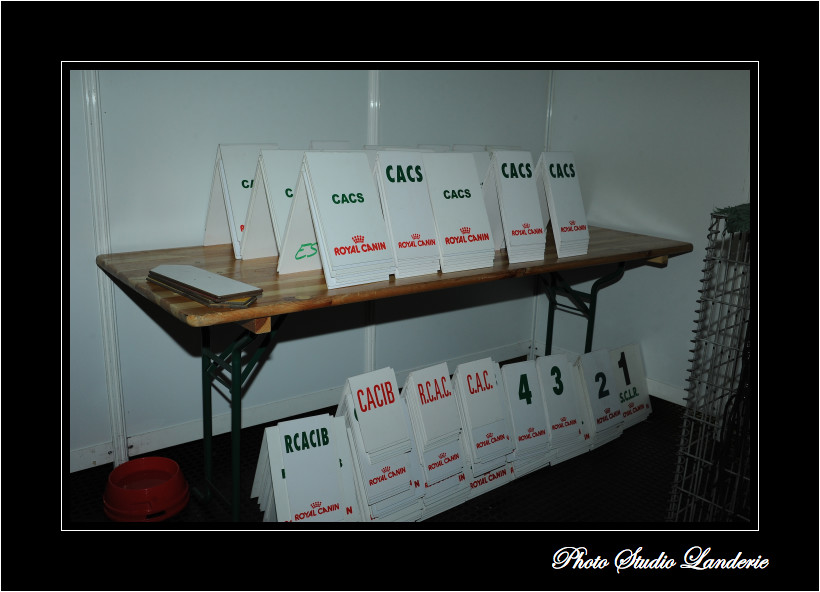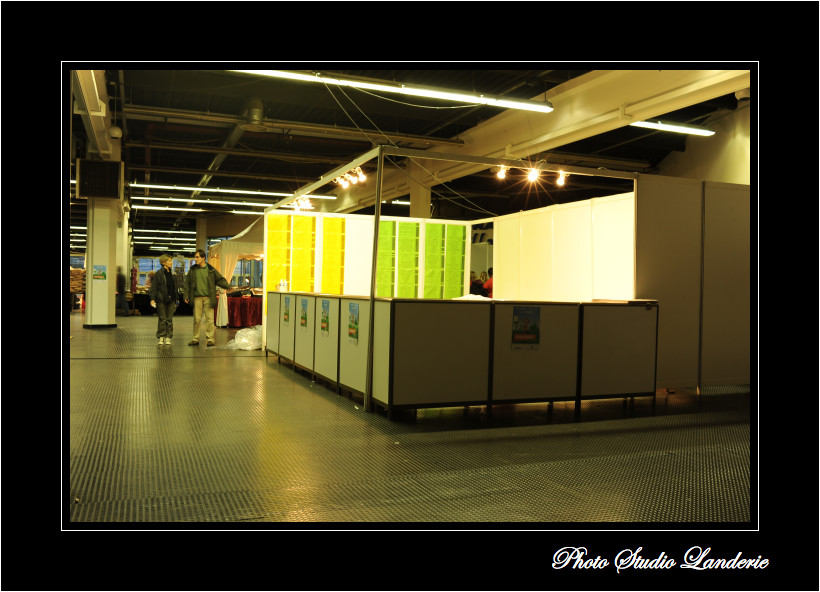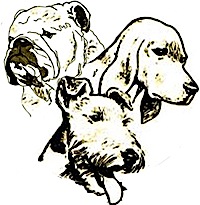 La propreté, c'est l'affaire de tous. Encore faut-il que les bénévoles en charge des poubelles les répartissent au préalable dans les 3 halls et à l'extérieur pour que le public les ait à portée de mains.
Cleanliness is everybody's business! The volunteers responsible for the dustbins have to distribute them in the 3 halls and outside so that the visitors have them within easy reach.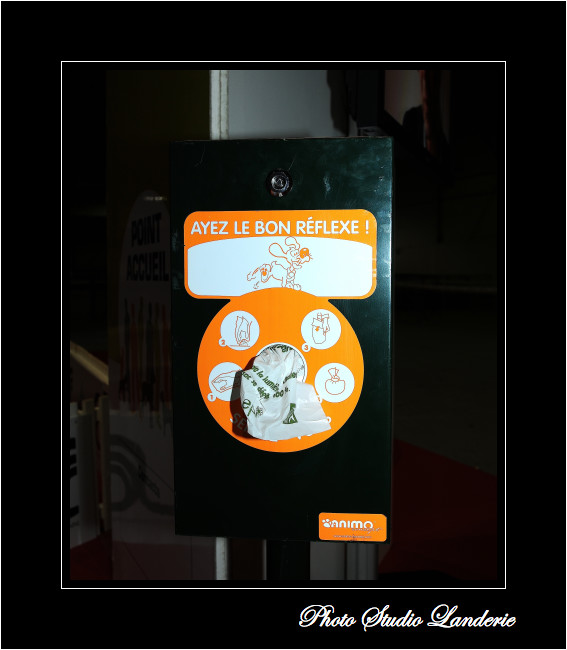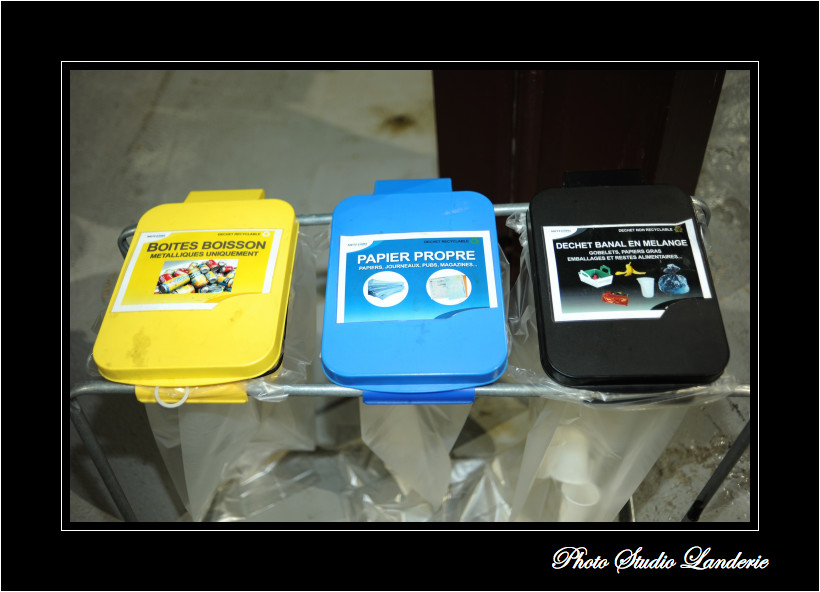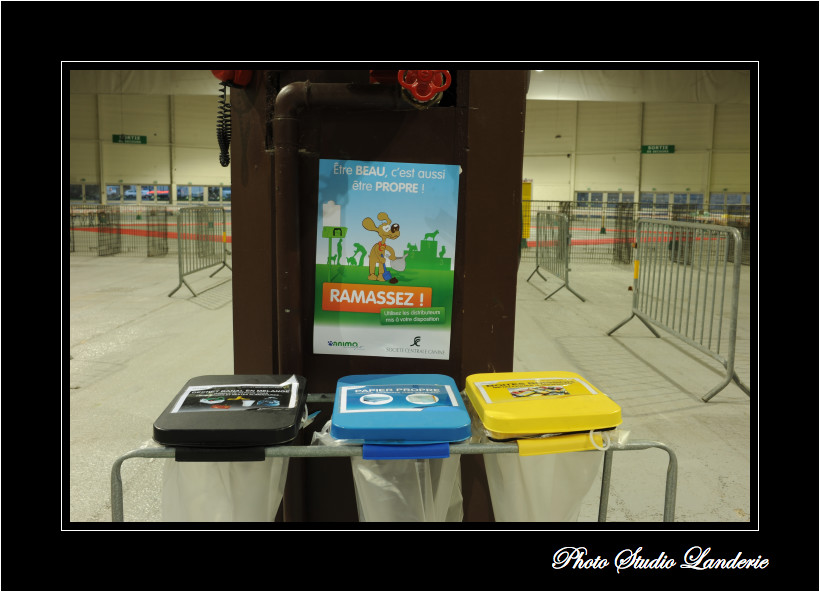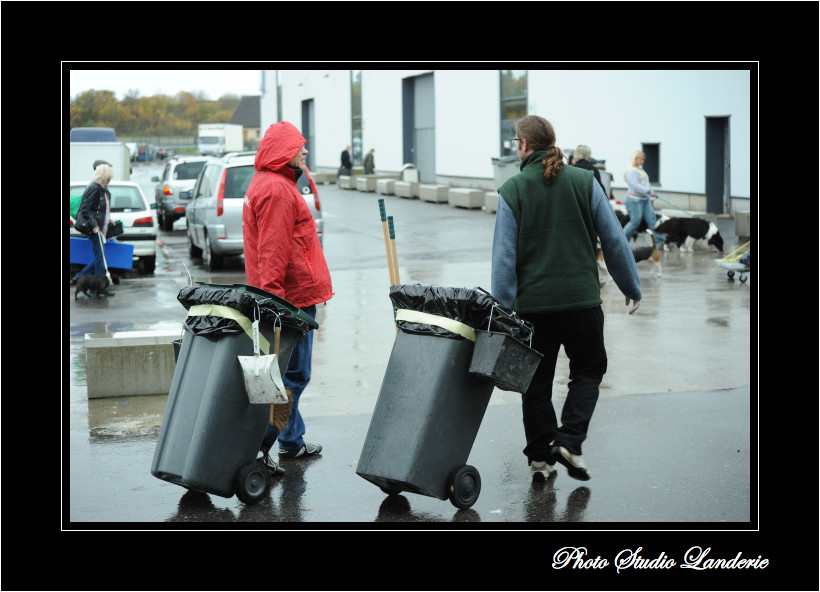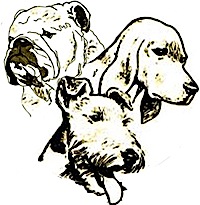 Pour que les commissaires et secrétaires de ring ne connaissent pas de coup de pompe, la meilleure chose est de prévoir des en-cas.
So that the secretaries and stewards of the ring don't feel drained, the best way is to provide them with some snacks.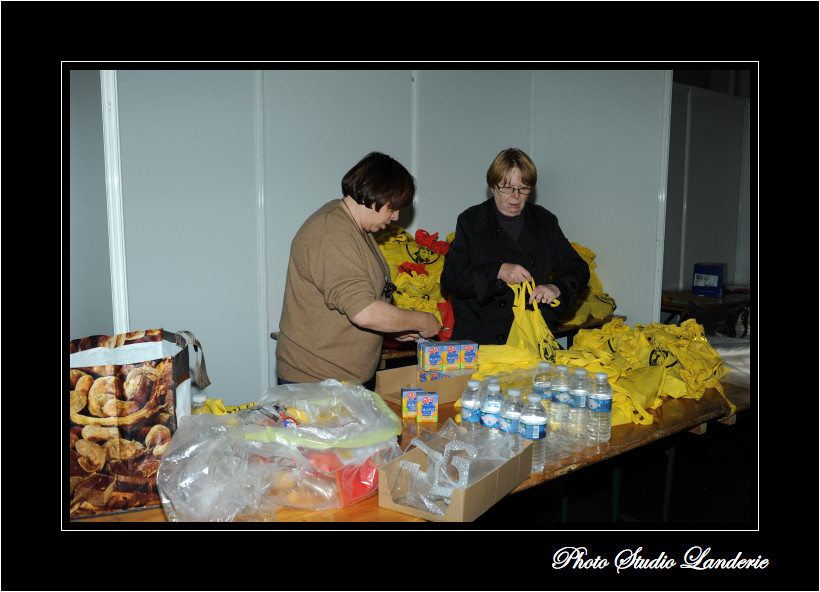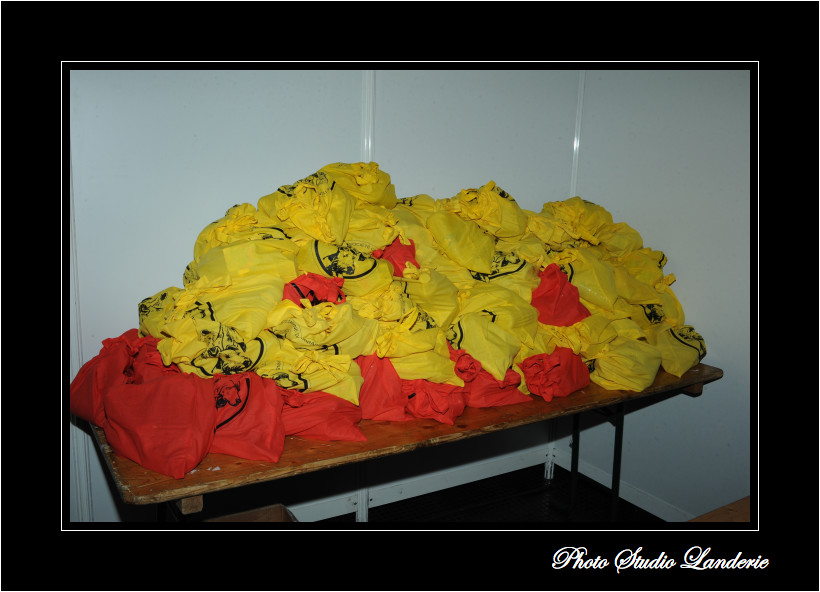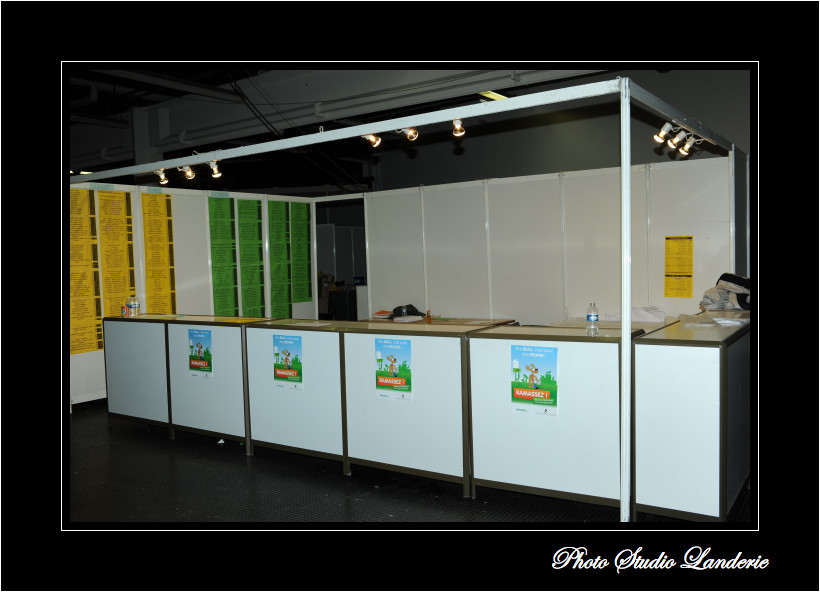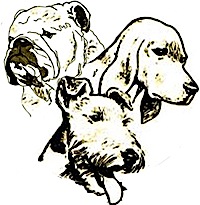 « Où est le ring de telle race, svp ? » C'est la question qui revient sans cesse aux oreilles des organisateurs durant deux jours. Et cela malgré les panneaux indicateurs placés en plusieurs lieux de l'expo et… sur lesquels les races apparaissent par ordre alphabétique !
"Please could you tell me where the ring for such breed is ?" This is the question constantly put to the organizers during the two days. And this, despite of the display panels situated at different places in the exhibition halls, ..... on them the breeds are listed in alphabetical order!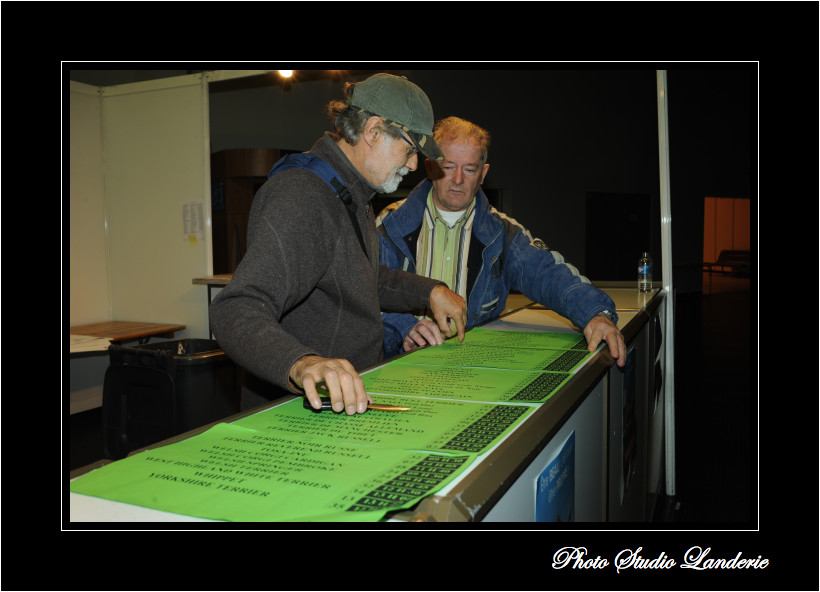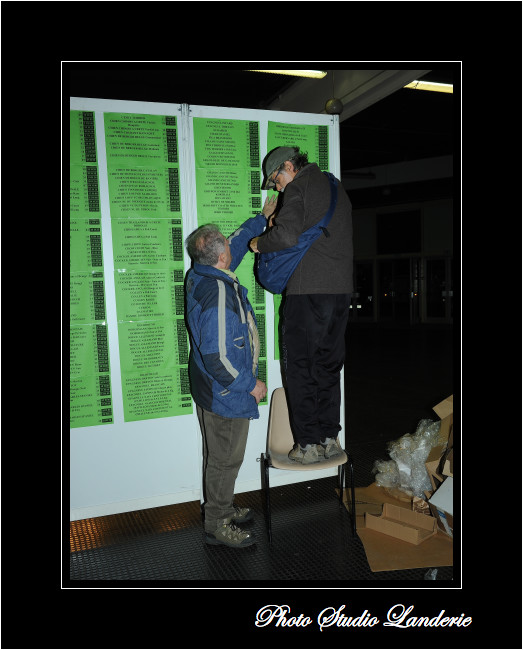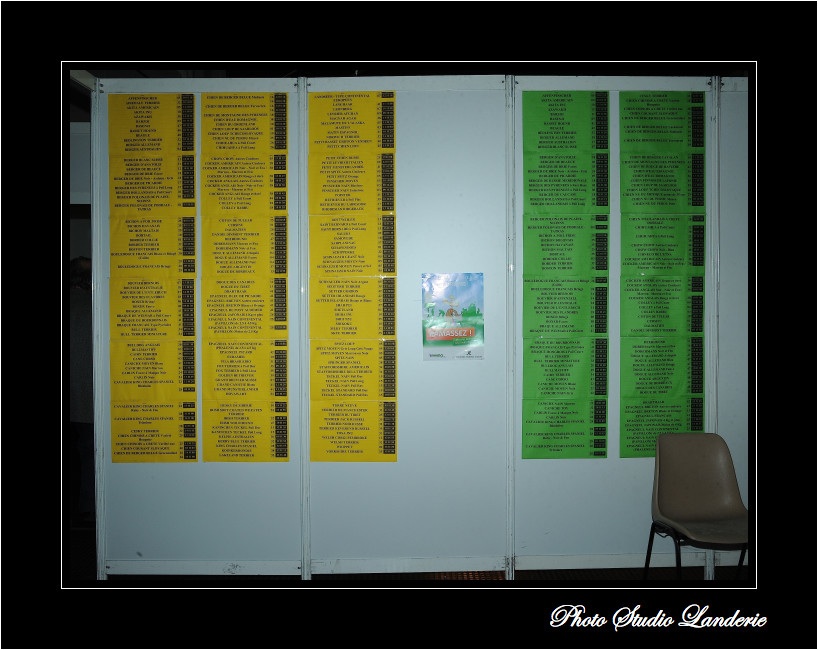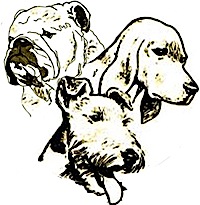 Une valise par juge. Celles-ci ne sont pas diplomatiques, mais elles renferment un véritable trésor. Pas question de commettre d'erreur dans leur préparation et distribution.
Each judge gets a small case. These are not diplomatic bags but they contain a true treasure. No question of making mistakes in preparing and handing them over.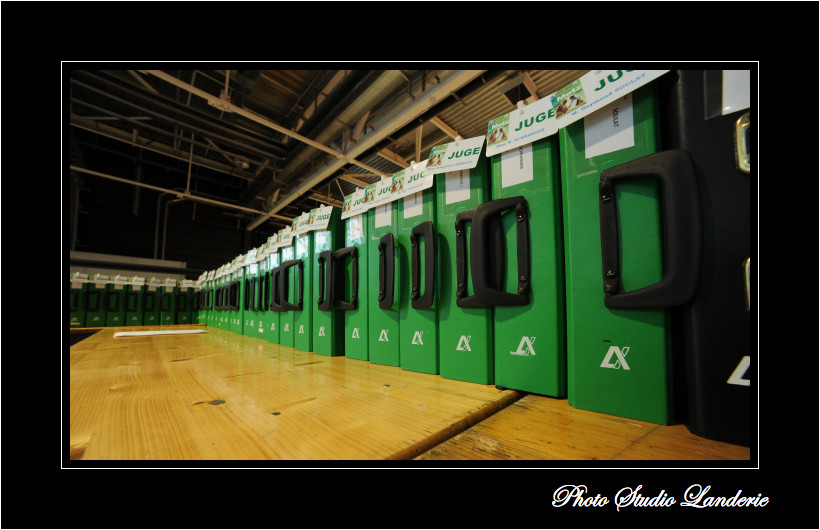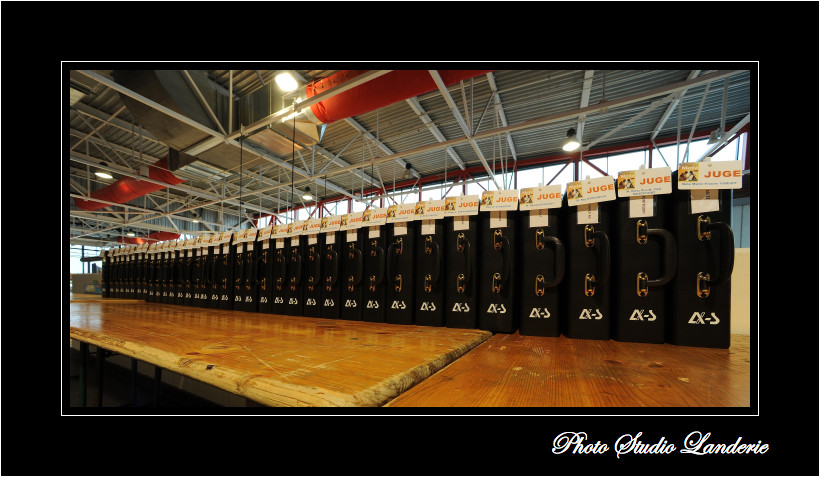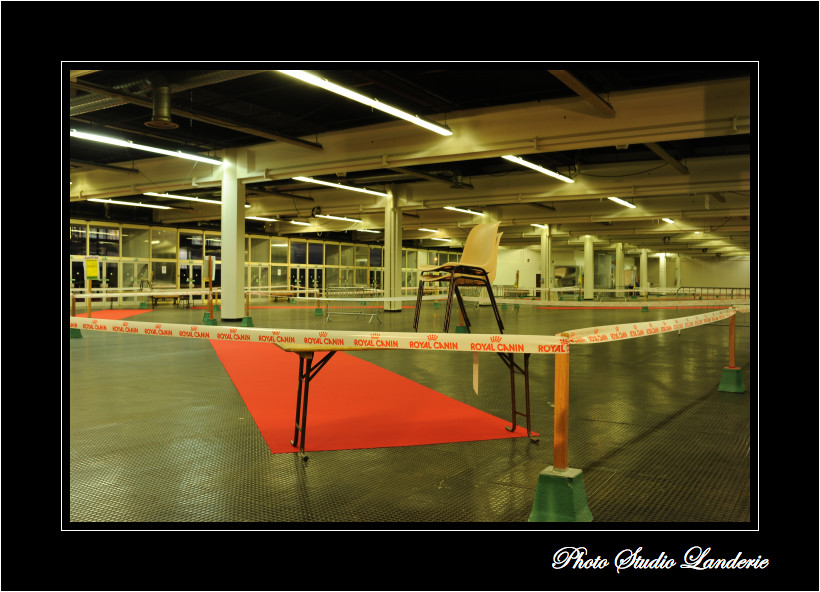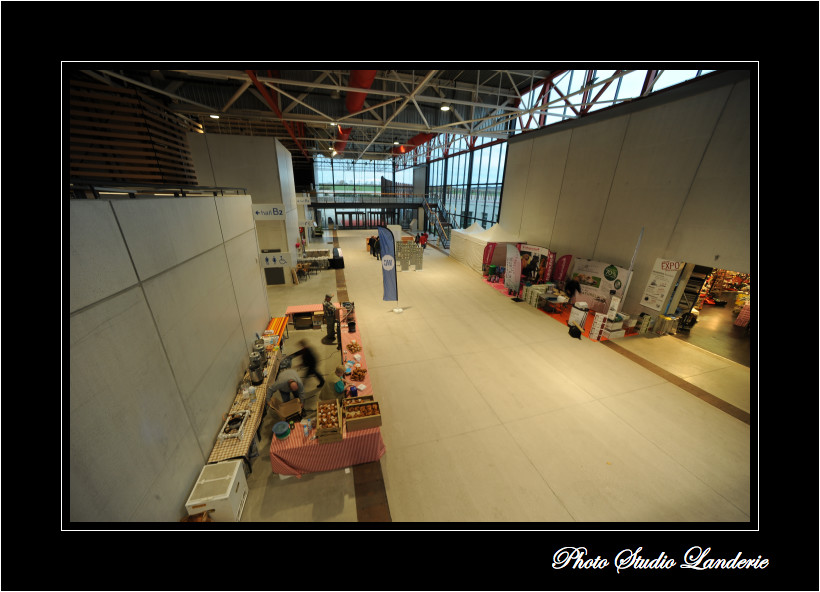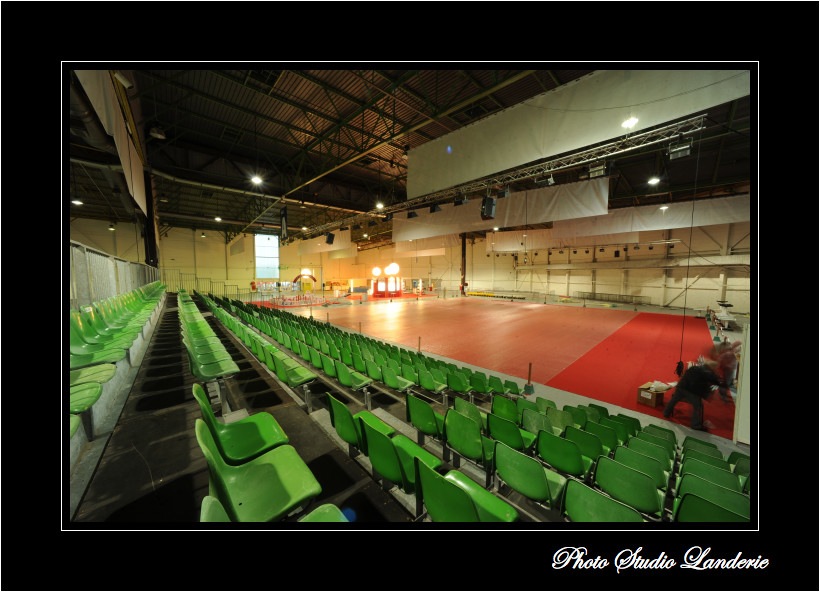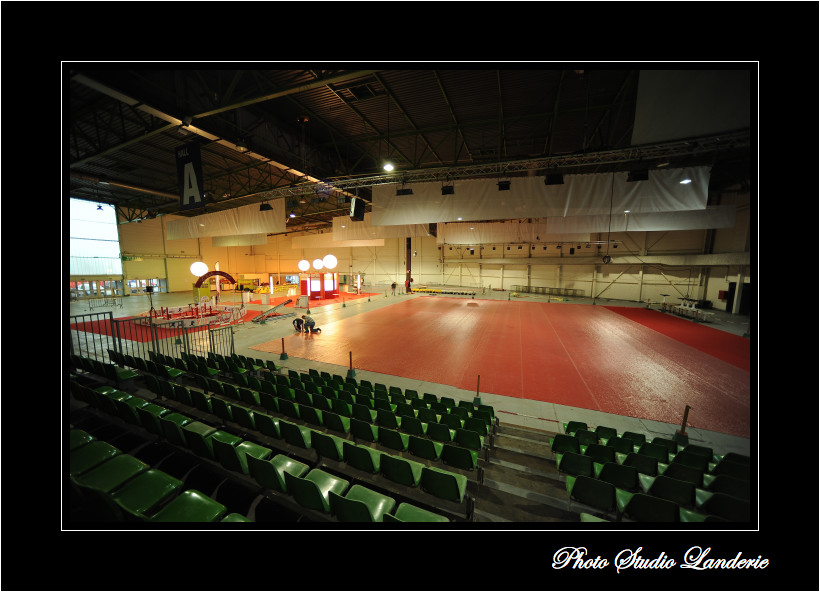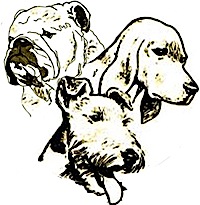 Voir les résultats en temps réel sur Internet, c'est bien beau, mais cela ne se fait pas tout seul. Il faut collecter les infos, les transmettre, les taper et hop… c'est dans la boite, ou plutôt sur la toile !
To consult the results in real time on the Internet, is a very good thing. But it doesn't happen automatically. The data has to be collected, transmitted, typed and off it goes.... The results are in the box or more precisely on the web!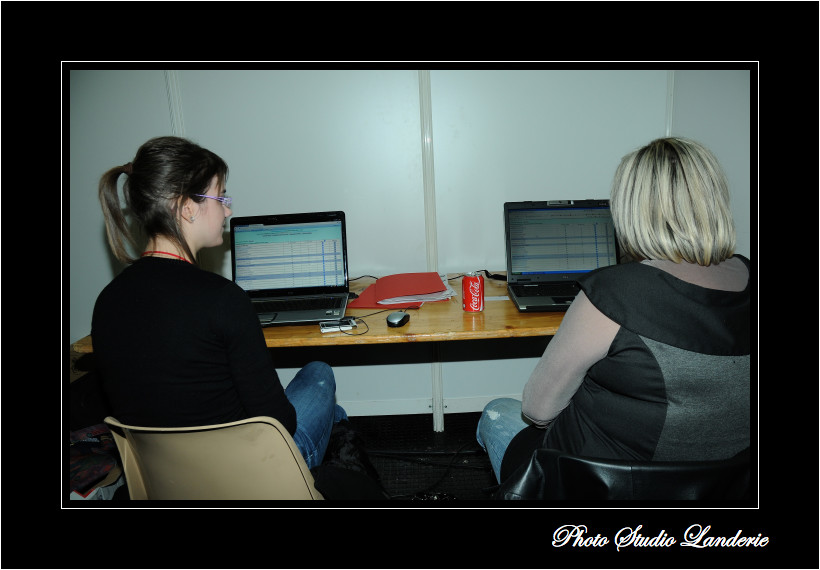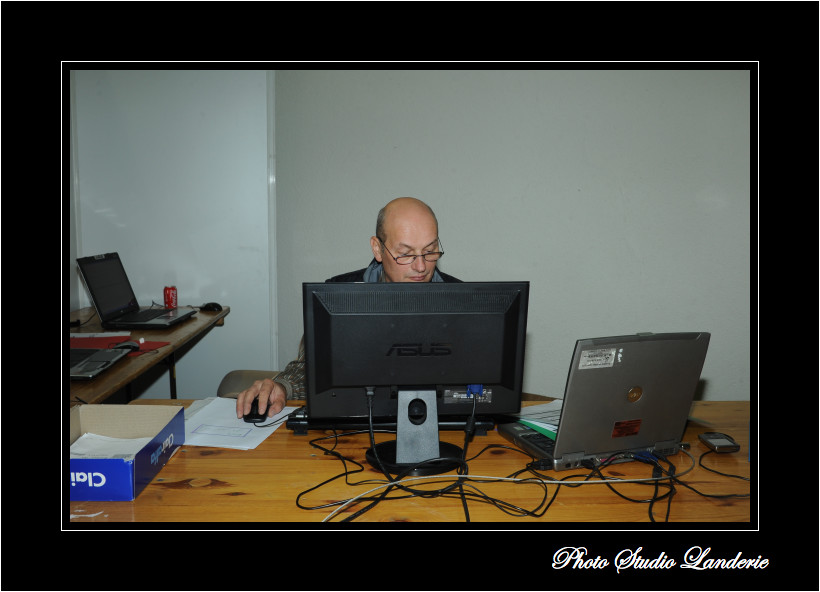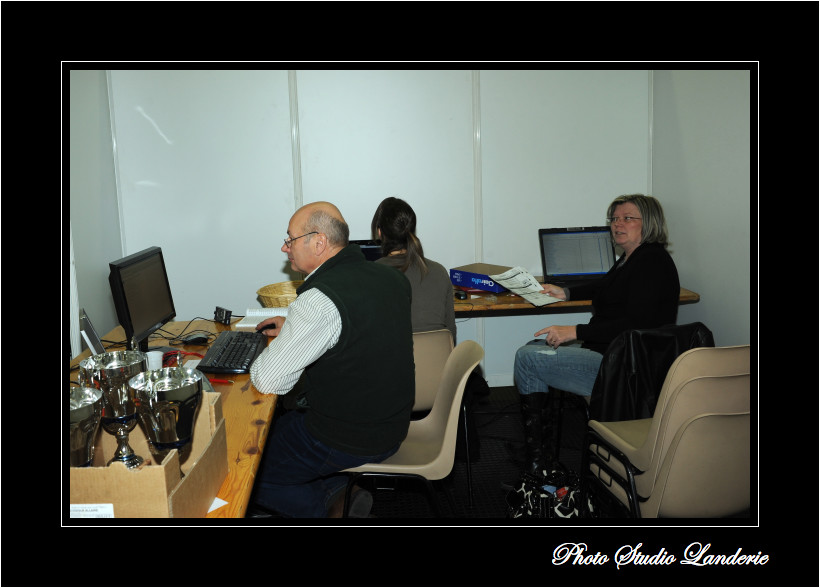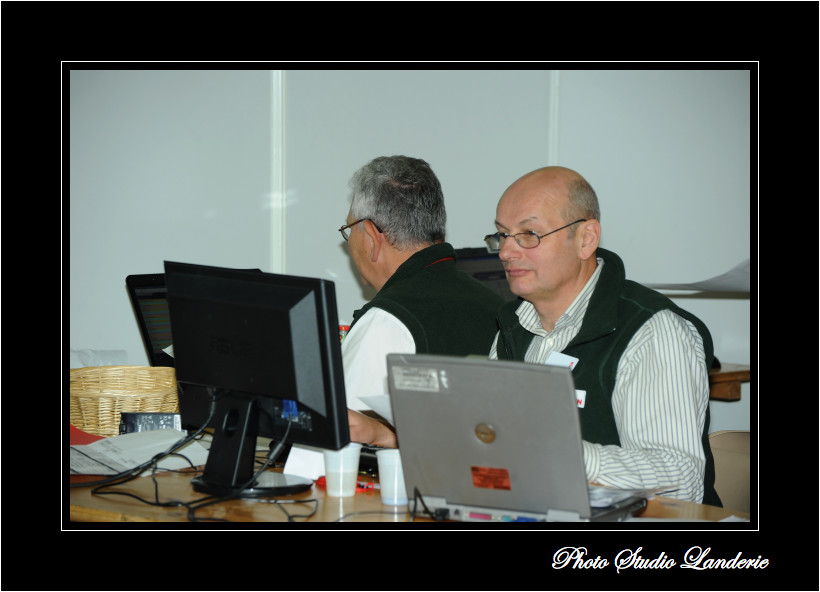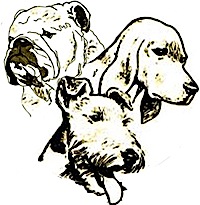 Qu'ils soient scouts ou non, les jeunes – et moins jeunes ! – bénévoles n'ont qu'un mot d'ordre à la bouche : « Toujours prêt ». Et un large sourire, du moins le premier jour !
Scouts or not, the young – and not so young ! – volunteers have only one watchword: "be prepared". And a broad smile, at least on the first day!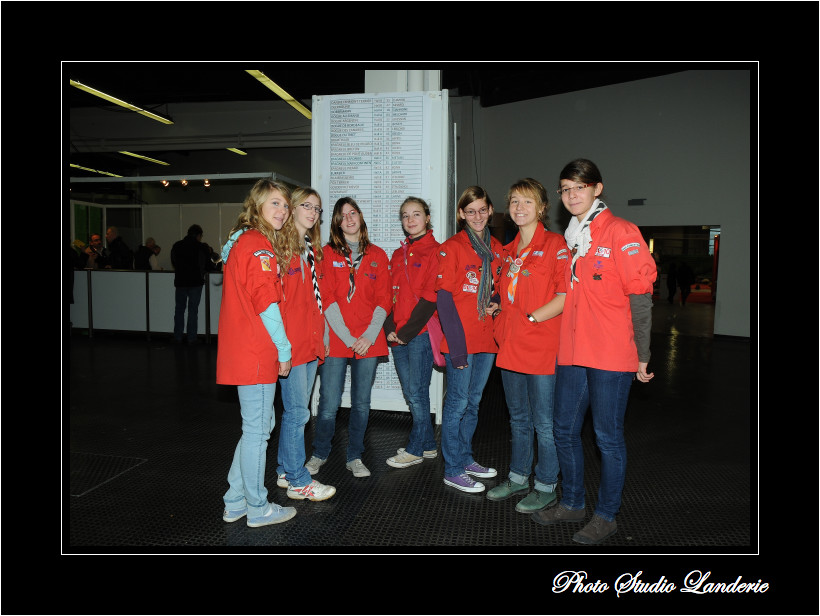 Vétérinaires, la garantie sanitaire de toute exposition
Cinq jeunes diplômés étaient présents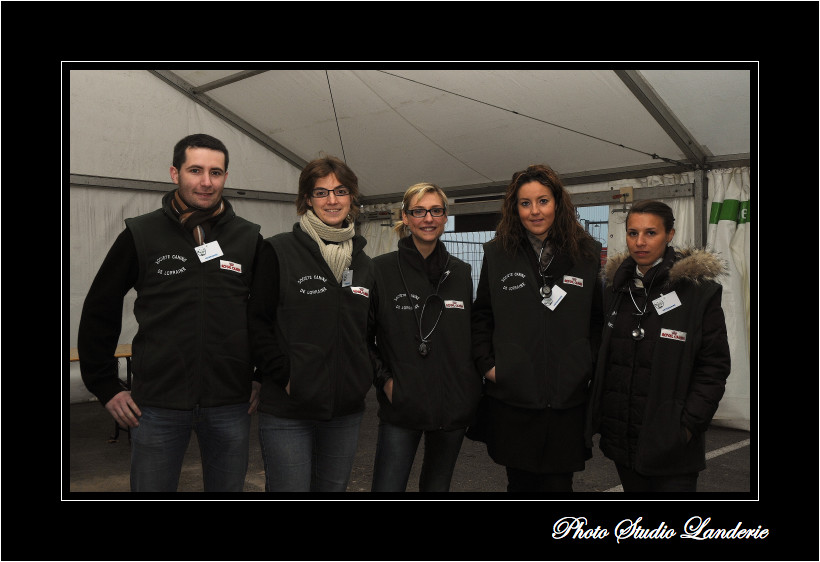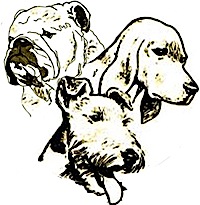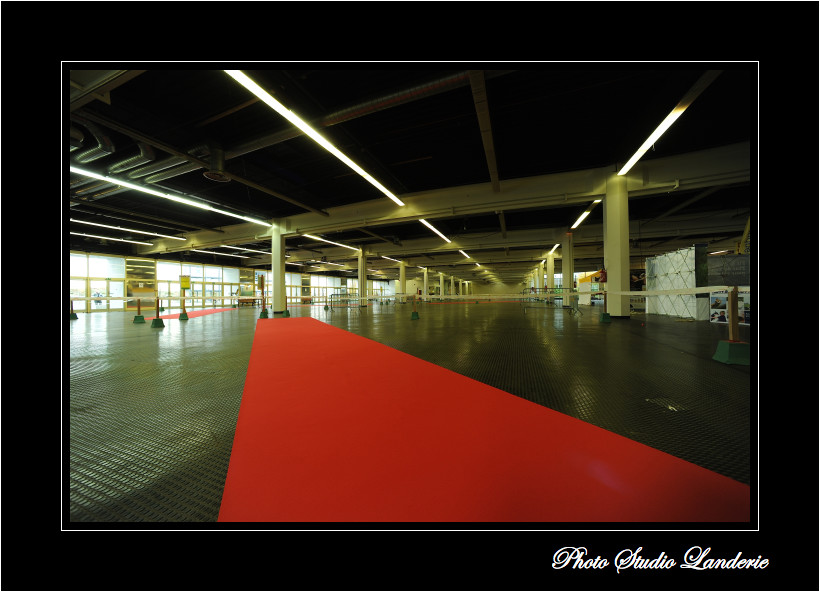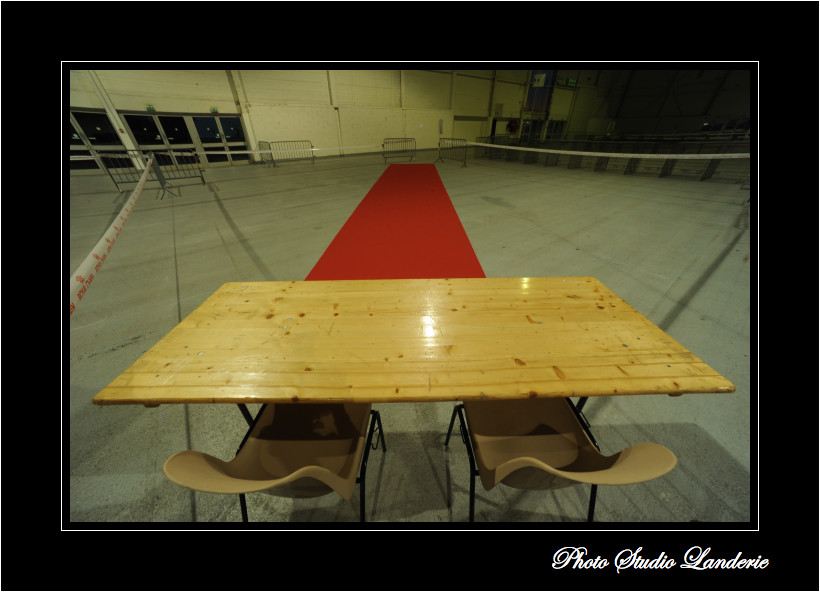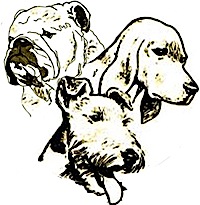 C'est quoi au menu ce midi ? Les cuisiniers s'activent aux fourneaux et les tables sont dressées. Mais le repas, c'est généralement sur le pouce qu'on le prend.
What is on the menu for lunch? The cooks are busy in the kitchen and the tables are set. But one generally has a quick snack.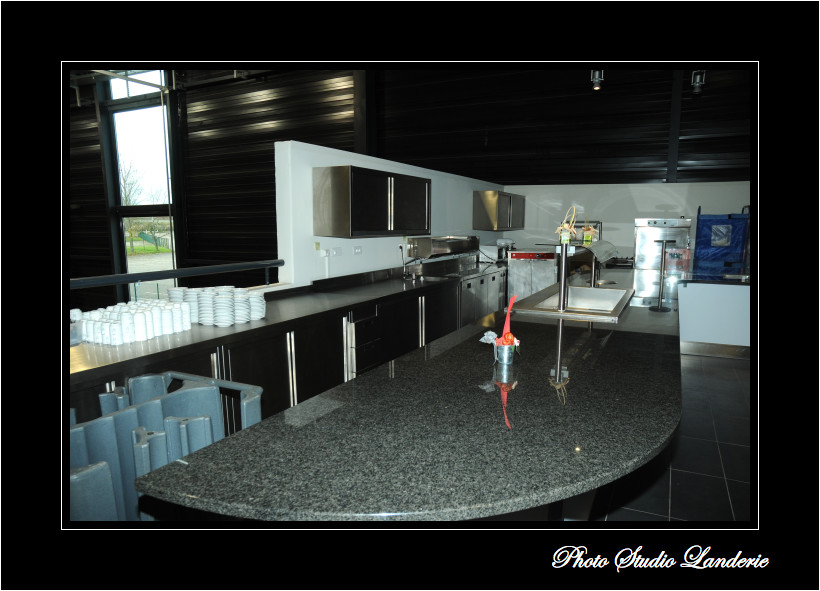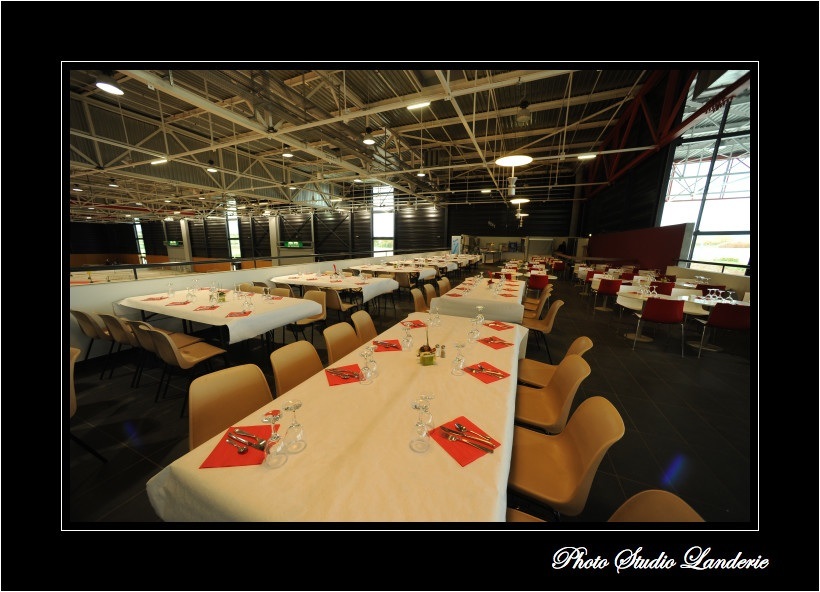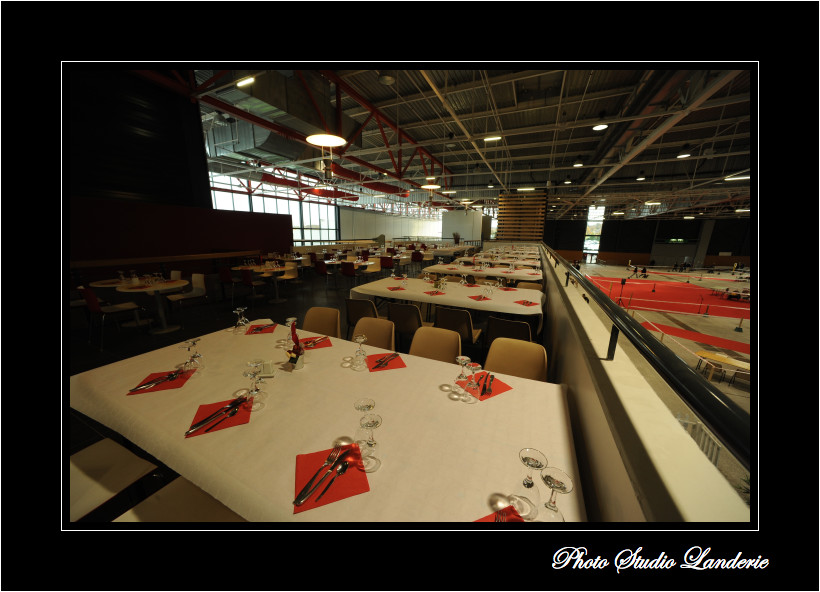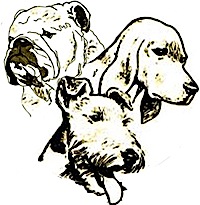 3 Halls, 47 rings de jugements, une exposition commerciale… autant de mètres linéaires à donner le vertige à un mathématicien chevronné !
3 halls, 47 rings, a trade fair… so many linear meters to make a senior mathematician dizzy!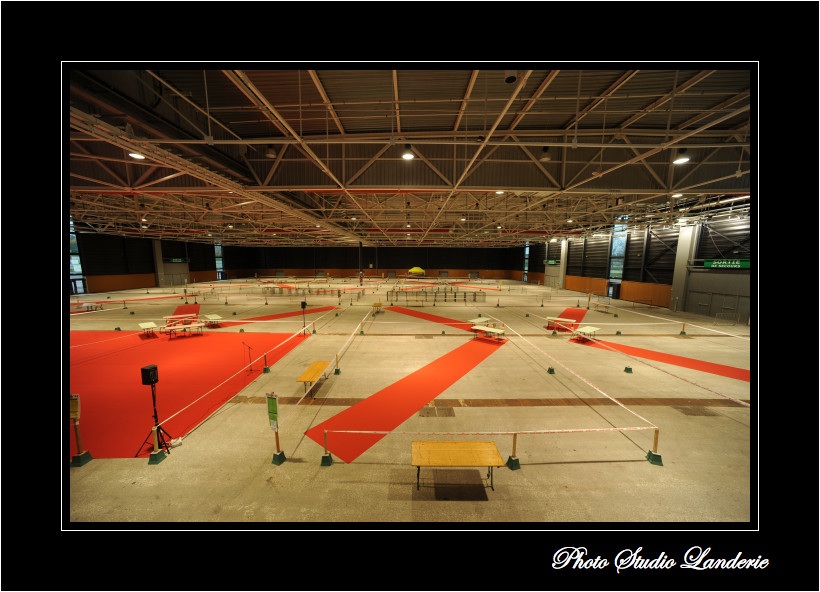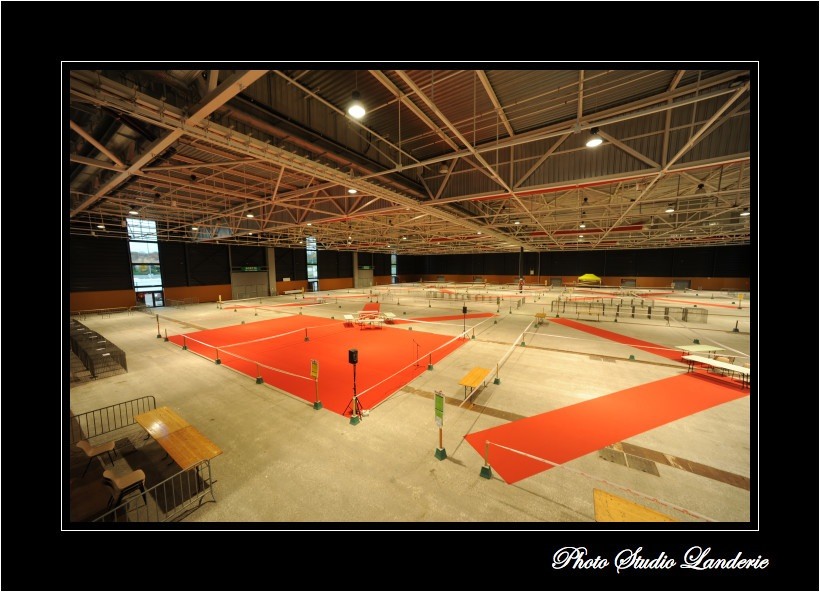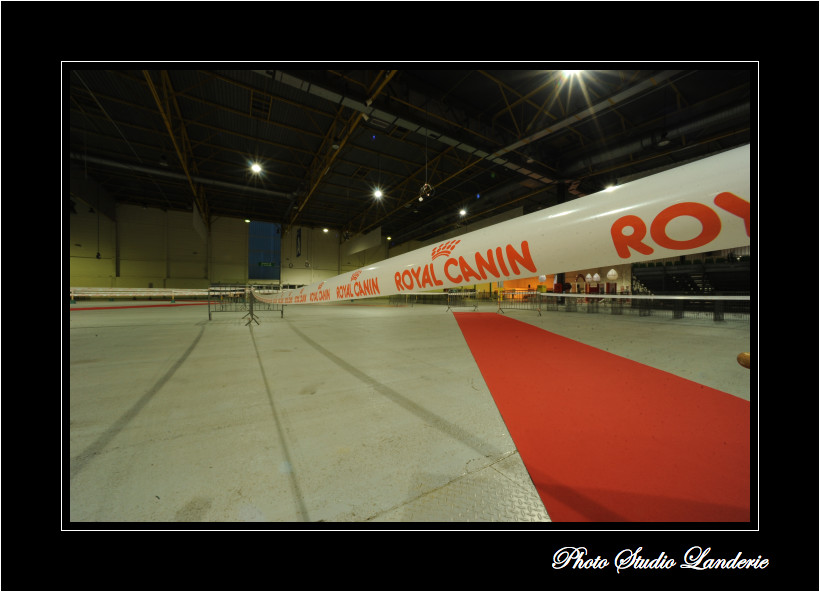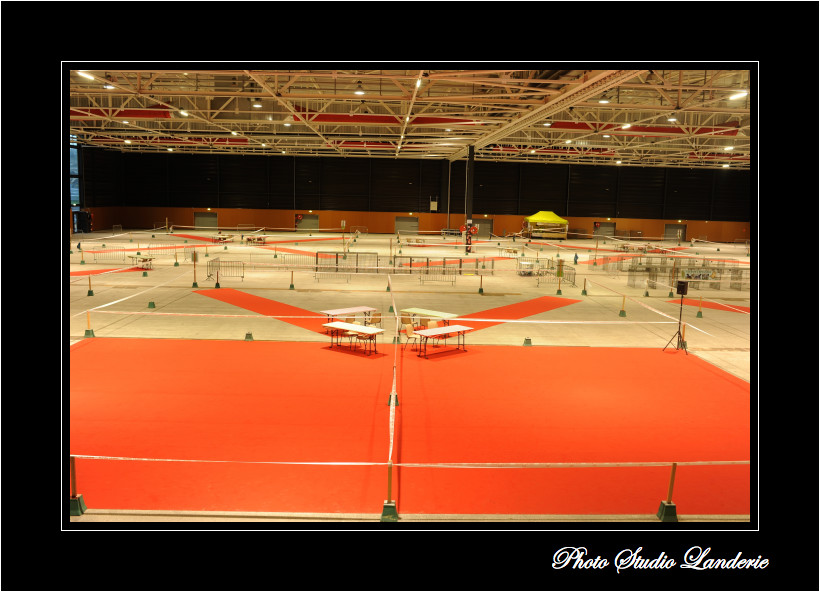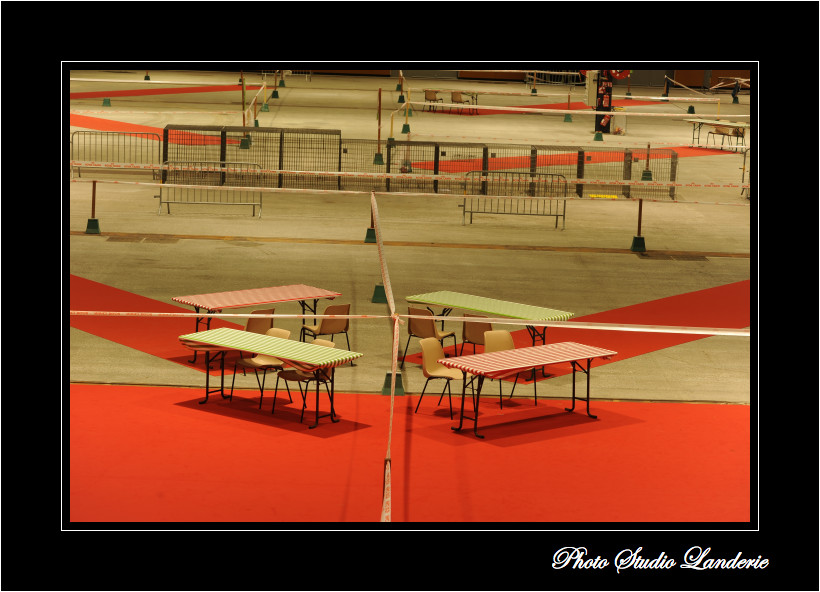 Finalement, c'est beau quand c'est tout vide et tout propre, c'est pour cela qu'on le prend en photo !
Finally, it is beautiful when it is empty and everything is clean, that's why we take a photo of it !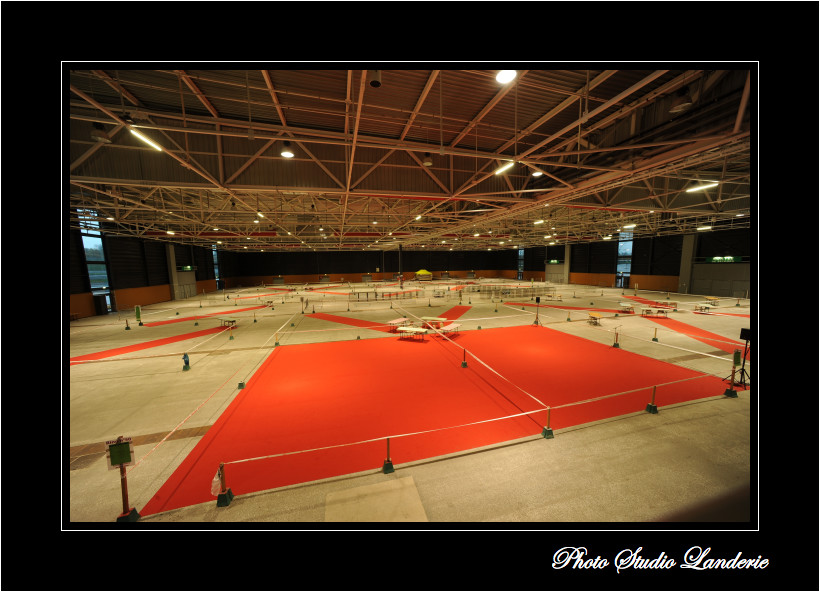 © Copyright Studio Landerie 
   Droits de reproduction et de diffusion réservés